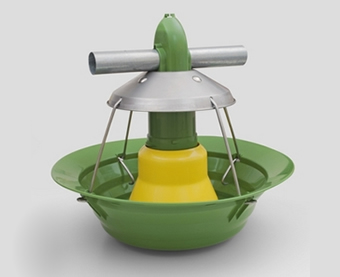 HIGH QUALITY PAN FEEDING SYSTEM FOR TURKEYS
The automatic TAKKY system is suitable for turkeys and turkey poults as it is manufactured with strong and long-lasting materials.
Take a look at this VIDEO.
TAKKY can be used from the first days of life of the animals because the feeding pan for poults can be replaced easily with a larger one.
The feeding pan rotates if turkeys collide with it, in order to reduce the risk they hurt. It is made of special non-toxic, shockproof and acid-resistant plastic.

Each feeding line presents feeding pans installed every 150, 200 or 250 cm and it includes three feed level probes (one placed at the beginning of the line inside the main hopper, the other two at the end of the line).

The double pressure switch at the end of the line stops feed distribution when it has reached the desired level or in case of emergency.
Only SPEROTTO systems have the drive unit and the hopper at the beginning of the feeding line. As a consequence the auger conveyor pushes the feed uniformly up to 150 meters, while any possible inspection of the drive unit is easy thanks to its position.