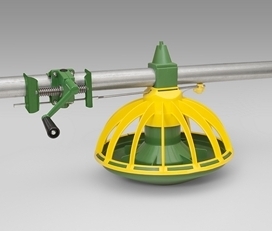 HIGH QUALITY BROILER FEEDING SYSTEMS
The long experience in poultry farming equipment and the close collaboration with poultry breeders has led Sperotto Spa to the creation of a wide range of feeding systems, including CIP. Take a look at this VIDEO.

For over 20 years the strong and ergonomic CIP pan has proved to be a top quality product in the broiler feeding area. The pan is designed to allow the animals an easy access to feed since their first days of life.
The original Sperotto Feeding System has got the unique and innovative F.L.D. (Feed Level Device): a patented system studied by Sperotto S.p.A. engineers, which guarantees the simultaneous distribution of feed in each pan. The results are noteworthy:
* no more feed waste
* outstanding feed conversion rates
* uniform distribution of fresh feed
The pan feeder is made of special non-toxic, shockproof and acid-resistant plastic.
Each feeding line presents feeding pans installed every 75 or 100 cm and includes three feed level probes (one placed at the beginning of the line inside the main hopper, the other two at the end of the line).
The double pressure switch at the end of the line stops feed distribution when it has reached the desired level or in case of emergency.
Only Sperotto feeding systems have the drive unit and the hopper at the beginning of the line. Therefore, the auger conveyor pushes the feed uniformly up to 150 meters, while any possible inspection of the drive unit is easy thanks to its position.